Dans
[Em]brace
Sanne Clifford & Co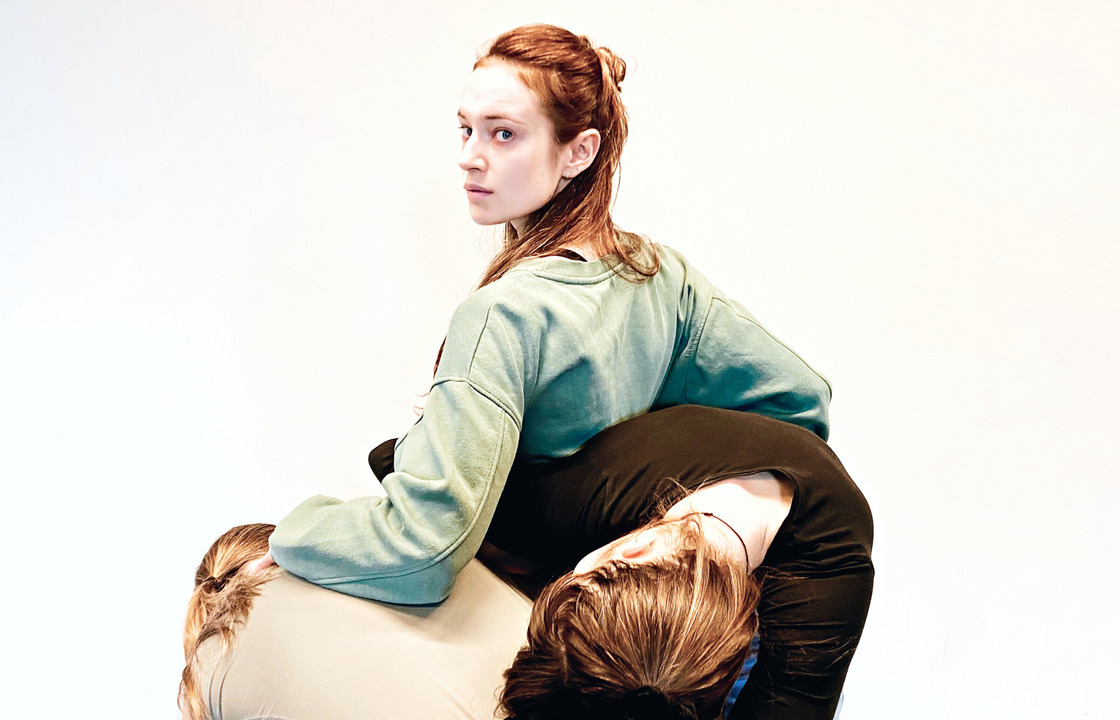 dans
première
language no problem
Dans
[Em]brace
Sanne Clifford & Co
Een balancerende dans over vallen en opstaan, tussen de lijntjes van weerbaarheid, overgave, acceptatie en keuzes maken
Prepare patiently, hold closely, accept willingly.
In [Em]brace dagen drie dansers zichzelf en elkaar uit om zich over te geven aan het moment van een val en de reden of kracht te vinden om weer op te staan.
 
Wanneer laat je los, vang je jezelf of een ander op, of zet je jezelf schrap voor de impact? 
Deze 50-minuten durende choreografie zoomt in op het moment van loslaten, (jezelf) opvangen, steun bieden en aannemen en de keuzes die daarbij komen kijken.
duur: 50 minuten
Sanne Clifford is an artistic director, choreographer, dancer & teacher based in Amsterdam, the Netherlands. She creates performances inspired by daily live subjects related to (dis)connection, expressed through her eclectic movement language and within close collaboration with other artists.

She has a rich educational background in dance & choreography holding the following degrees:

​*MA in Choreography (Fontys School of the Arts, Tilburg)
*MA in Education in Arts (Codarts School of the Arts, Rotterdam)
*BA in Dance (AHK Amsterdam School of the Arts, Amsterdam)

Experience:
Sanne presented her first independent choreographic work in 2009 and has been continuously creating since. She presented her work in the Netherlands, Belgium, Spain, Italy, Macedonia, Denmark and Hungary. From 2012 to 2015 Sanne was co-founder, co-director and house-choreographer of New Dance Company, a platform that takes initiatives to help young choreographers and dancers in their artistic development. Since 2015 she started a new initiative together with Anja Gallagher, called Choreolab Europe. This collaborative artistic research platform for dance and choreography dives into artistic development. It provides an artistic playground where new ideas and questions can be born, shared and reflected on, in a peer-to-peer setting.

As a choreographer she is interested in revealing moments of (dis)connection, interdisciplinary and the connection between collaborators, performers and the audience. She plays with different perspectives and the awareness on creative approaches within each process. She has been performing in her own works several time, bringing an eclectic and authentic movement language. 

As a teacher Sanne is mainly focussed on dance & creativity, Choreography and Body-awareness. She has been working with, among others: ArtEZ Bachelor of Dance in Education, Selma Susanna School of Performing Arts, Chassé Dance Studios, Buitenkunst, De Friese Dansdagen, Frank Sanders' Musical Academy (NL), 2nd IDOCDE Symposium - Impuls Tanz (Vienna, AT), The Link - Centre for Dance & Health (Bern area, CH) & CAMP_iN platform (San Luis Potosi, MX).
Concept en choreografie: Sanne Clifford
Dans: Clara Grosjean, Kim Hoogterp & Polina Nikolaeva
Muziek: Amir Swaab
Artistieke coaching: Pia Meuthen en Anastasia Kostner
Licht ontwerp: Ellen Knops
Productie: Sanne Clifford & Co
Fotografie: Sanne Clifford
https://www.instagram.com/sanneclifford/