Theater
The MX Universe Ball
International Prince Diego Makaveli & Black Pride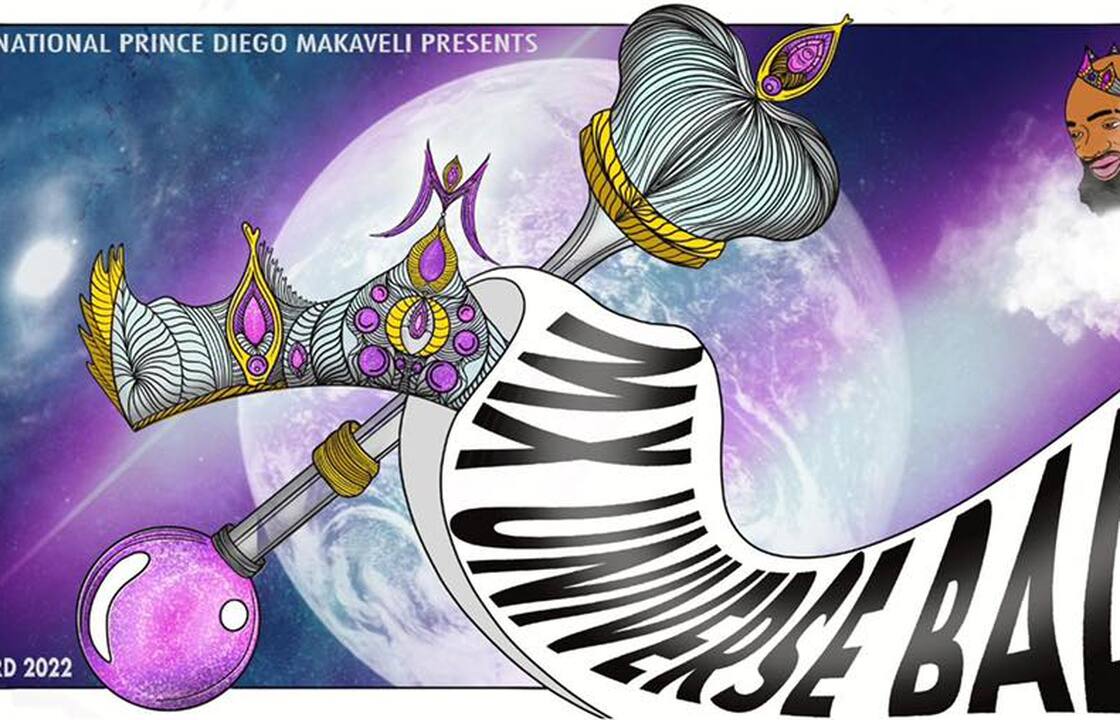 Theater
The MX Universe Ball
International Prince Diego Makaveli & Black Pride
Welcome to the MX Universe ball, where we pay tribute to the origins of ballroom and expand our ideas.
THE MX UNIVERSE BALL
With this evening, we want to take you through glamour, poise and creativity.
Ballroom scene was created for and by black and brown people. Ballroom has always been a place where the creativity that was born out of oppression helped marginalized individuals find their own true self and express it in a safe space.
This program is made by International Prince Diego Makaveli and BECOMING
EUROPEAN Princess Makaba Comme des Garçon  NL
Aitana Miyake Mugler  NL
Dutch Mother Naimah Elle NL
Father Typhoon 007 NL
Princess Gaby Vineyard NL
Overall Founding Father Ilyak Visori SP
Mc: Kevin Jz Prodigy
DJ : Dj Angel X
FACE
You haven't snatched that crown yet, but baby you know THAT face is ROYALTY. For this category you must include a beautiful headpiece. It has to compliment your facial features! Be creative, and maybe you can add a crown to that headpiece!
- BUTCH QUEEN 
- FEMME QUEEN 
- WOMAN 
- NON-BINARY 
- DRAG'S FACE 
———————————————————————
REALNESS
When I grow up I want to be… Who did you want to be when you were younger? Who do you aspire to be today? These are questions you can expect at the MX Universe ball. Answer these questions through your look! Did you want to be a doctor? Maybe you wanted to be like Beyonce, just make sure you bring your references and make your dreams come true on the runway!
MALE FIGURE REALNESS
- THUG REALNESS 
- SCHOOL BOY REALNESS 
- EVERYDAY REALNESS 
- TRANS MAN REALNESS 
FEMALE FIGURE REALNESS
- FEMME QUEEN 
- DRAG 
EXECUTIVE REALNESS
How can we fund such a fabulous event without our investors? You better look like WEALTH, POWER and a Wall Street investor in order to snatch the crown!
———————————————————————
BIZARRE
We all have that voice that tells us we are not enough, we will not snatch that grand prize, we don't deserve it. At the MX Universe ball we want to see this inner saboteur come alive. We also refer to this as our inner demons. Bring it how you imagine your inner saboteur looks, make sure you get the judges feeling as uncomfortable as you do when that voice creeps in.
——————————————————————— 
RUNWAY
- MF EUROPEAN RUNWAY
You just saw a messy girl rip up Steve Harvey's announcement cards but it doesn't matter because you won! Don't let the drama ruin your moment, so bring it in a crown and sceptre to show the girls who is the rightful winner.
- FF EUROPEAN RUNWAY
Steve Harvey is announcing the winner of the pageant and messes up again making you second place, you storm the stage and rip up the announcement cards in a rage. Storm this category in a look made up of or inspired by ripped paper.
- AMERICAN RUNWAY
We found signs of alien life, now the title Mx
Universe takes on a real meaning. Give us a look that represents a planet in our universe and show these aliens what's good.
- BEGINNERS RUNWAY OTA
But wait! The aliens are pressed, they want to be represented in the Mx Universe ball as well! Come as a high-fashion alien that knows how to present an intergalactic gown! Represent your planet and don't forget the sash.
———————————————————————
BEST DRESSED
Throwing it back to the first Miss Universe pageant in California in 1952, bring it in a look inspired by Hollywood glamour! Pearls, stones, feathers and RICH.
- COM VS COM
Now it's time for the question round ,you're almost there! Can you feel The Crown?
What are your ideas on bettering the world? Incorporate your 3 wishes for a better tomorrow for the world.
———————————————————————
BEGINNERS PERFORMANCE
(OLD, NEW, FEMME)
The question for the Mx Universe Contestants: Who was your role model as a child? How did they shape you into the fab bitch you are?!! Show us the impact of your role model in an outfit inspired by them (picture required)
———————————————————————
PERFORMANCE
We might look poised, but us ballroom girls know how to switch it up! Lady on the streets, and a banjee gyal on the floor! We want to see you arrive in a beautiful dress or gown and strip this look into a banjee cunty reveal!
- VOGUE FEMME
- BUTCH QUEEN VOGUE FEMME
- DRAGS PERFORMANCE
- FEMME QUEEN PERFORMANCE
- WOMEN'S PERFORMANCE
- POP, DIP AND SPIN
After winning the crown, our beauties hire bodyguards to keep them safe. Who dares to harm those beautiful faces? Luckily, we have our security team to protect them if they need it. Bring it like a security guard!
NEW WAY
Evening gowns are not the best option for your stretches, but we still want to see you look fabulous and glamorous. Bring it in a glamorous bodysuit. Whether it is bedazzled or chromatic, you can decide how you want to bring glamour to the runway!
REALNESS WITH A TWIST
You got your 10's for realness, now it's time to reveal a dress you have been hiding under that passing outfit. Make the judges GAG!
HANDS VS ARMS
The best looks on Miss Universe often have beautiful gloves that are coordinated with the gowns. These gloves are mandatory in your performance, HOWEVER, it has to be extraordinary and coordinated to your outfit. Simple gloves will not cut it, bedazzle and accessorise them! Frost yourself!
TAG TEAM OTA (MAX 4 PEOPLE)
How can we forget about our support systems? We are all cheering for someone from the sidelines when they are trying to snatch a grand prize! For the MX Universe ball, you will bring your inner cheerleader ALIVE. As a tag team group you have to bring it in a cheerleader uniform, meaning everyone wears the same outfit in the group! For tricks, get inspired by some cheerleading acrobatics in order to stand out a bit harder! DON'T FORGET THE POMPOMS AND BRING IT ON!! Cheer for your MX Universe contestant!
———————————————————————
BODY 
- ATHLETIC (FF,MF)
- MODEL (FF, MF)
- LUSCIOUS (FF, MF)
- BIG  (FF, MF)
The time is yours, get ready for the swimsuit competition! Bring a look inspired by a sports illustrated cover. It's time to let your body shine, so bring it WET and HOT. Make sure you look like you just walked out of a sport illustrated cover and wow the judges with your beautiful body. Bring your references!
———————————————————————
SEX SIREN
- CATBOY
Mister global always brings looks that pay homage to their country of origin. With extravagant shoulder pieces such as epaulettes or shoulder loops, they display what represents their country. It is up to you today to bring a look with shoulder epaulettes inspired by the country or house you are from. Be creative and bold, we are ready for some eye candy.
- LIONBABE & MF
After a long night of judging, it's time for our pageant judges in suits to strip off that hot and tight suit. Show us who that polished judge really is when the pageant ends and the suit comes off. The MX Universe judges are ready for a late night performance. Bring their imagination alive, nobody can resist a suit on and off.
- FEMALE FIGURE 
Baby, it's time to relive your Victoria Secret fantasies and become an angel for the night. High quality lingerie, stockings and big beautiful wings. It's time for the million dollar bra to make an appearance because the Victoria Secret runway dream is back, exclusively for the MX Universe ball.
To buy a ticket with discount, contact Prince Diego Makaveli to get your discount code.